YOMITAN SEVENS 2018
~OKINAWA SEVENS 2018 co-located event~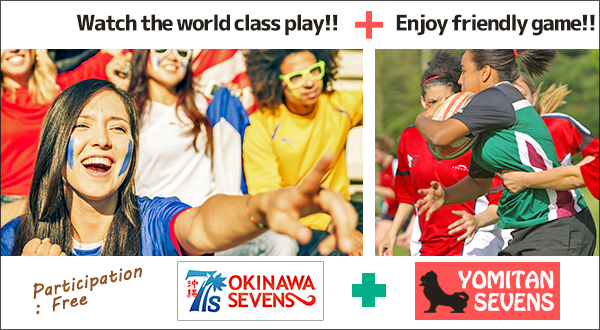 Participating teams !!
2 Japanese teams from mainland, 1 American team in Okinawa  (as of Jan 24, 2018)
Summary : 
We will take place friendly game events using this event for amateur girls players who have visited from all over Japan and abroad at the OKINAWA SEVENS held at Yomitan on 24 and 25 February, 2018
  Elementary School students - Tag Rugby
  Middle School students - Tag Rugby
  Above High School students- Sevens (Friendly Match)
Itinerary :
Friendly Game > 24 and 25 February 2018
Welcome reception & dinner > After the event on 24 February
Participation :
* Advance Registration System
* It is possible team participation and individual participation
* Players who came from across the country and abroad who went to watch and exchange events and players in Okinawa
* Women only
Participation fee :
Free  *but need to pay welcome reception & dinner fee
Welcome reception & dinner
After the event, hold an welcome reception & dinner at the neighboring venue
(competition players does not participate)
Sponsorship : Okinawa Rugby Football Union, Yomitan Village Tourist Association
Co-sponsorship : Yomitan Village
Endorsement : Yomitan Village Chamber of Commerce
Cooperation : Japan Rugby Football Union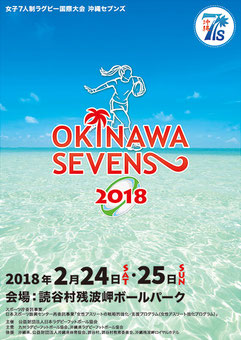 Okinawa Sevens is an international convention of sevens girls' rugby sponsored by the Japan Rugby Football Union and is a project entrusted to the sports agency, re-entrusted business of the Japan Sports Promotion Center.  It is a strategic strengthening / support program for women's athlete.
In the first held 2017, six teams in Australia (Rio 1st), the United States (Rio 5th), France (Rio 6th), the Netherlands participated in addition to two Japanese teams selected.
*2018: Australia / USA / Canada / England / Russia / Fiji / Japan(2 teams)

Grand and spectators are just a few meters away. Watch the world class play closely and enjoy rugby at the same ground as the world's top players. It will certainly be a wonderful experience to play with other players and foreign players who do not have the opportunity to play together normally!!
**about accommodation and transportation arrangement**
For those who wish to check the accommodation and transportation arrangements on the application form, we will contact you from the travel agency entrusted by the Yomitan Tourism Association.
The reservation of the hotel etc. has not been completed yet at that time. First we will inform you quotation and details after that you can consider to make a reservation.
[Hotels] [Car Rentals] [Shuttle Bus]